Zamzar is committed to being a company that makes a difference. Not only do we aim to make the best software we can, but we're also committed to making the world a better place too. Check out some of the initiatives we've started below, and do contact us if you want to get involved!
Tree Planting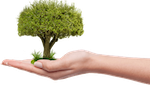 What are we doing?
We have pledged to plant 10,000 trees over 3 years with the help of the Arbor Day Foundation. That's a minimum of 300 new trees every month!
Why?
Trees are important in almost every aspect of our lives. They help clean the air we breathe, filter the water we drink and provide biodiverse habitats for thousands of animals. Studies estimate they provide jobs for over 1.6 billion people, allowing 1 in 7 people on the planet to earn a living wage. Trees are also the most effective vacuum cleaner on Earth, hoovering up carbon from the atmosphere.
In urban environments trees act as an absorbent to gasses from cars and help reduce the risk of natural disasters such as floods or landslides by capturing rainwater - according to a recent U.N. study a single tree can absorb 15,000 litres of water each year. In addition 25% of all medicines are made up from ingredients that originate from trees.
Where?
We'll be relying on the good folks at the Arbour Day Foundation to do the actual tree planting. They are a nonprofit organisation, committed to planting trees since 1972. They'll be planting the 10,000+ trees we fund across dozens of countries, including the U.S., U.K., Kenya and India.
How can you help?
Spread the word! The more files you convert, the more trees get planted. For every 10,000 files converted on Zamzar we'll plant a tree. Tell your friends and colleagues about this initiative, and know that by using Zamzar you are helping to make a difference to our planet.
How's it going?
Since starting this initiative in January 2020 we've donated enough funds to plant 3200 trees!
Charitable Donations

What are we doing?
We're committed to regular charitable giving. Each month we donate at least 2% of our company profits to different charities, sharing our finances with causes close to the hearts of Zamzar employees.
Our founders and employees take it in turns to nominate charities or non-profits they wish to donate to, and we're proud to have supported dozens of organisations since we started this initiative in 2012.
Who do we give to?
Here are just a few of the charities we have supported so far:
How can you help?
Do let us know if there's a charity you'd like us to consider and we'll review whether it might be suitable for us to support.